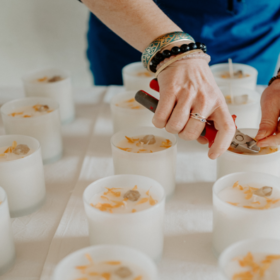 All scented candles are carefully handcrafted in Switzerland. I developed the ideas for the fragrance compositions myself and are therefore unique.
We use 100% premium eco soy wax and lead-free organic cotton wicks.
We use high quality perfume oils from a Swiss supplier
The scents are delicate and well balanced to wrap your four walls in an elegant and pleasant room scent.
Each scented candle in the glass also contains a small rock crystal cast in, which makes it a wonderful unique piece.
The candles are available in glass (250ml) or as travel candles in a practical metal can (90ml).